it does not feel like wednesday to me today – yay for a short week!
i was a good blogger and recorded all of my meals yesterday in preparation for today's what i ate wednesday post.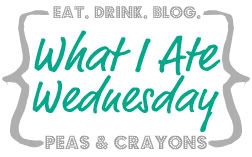 thanks as always to
jenn
for hosting!
i started off my tuesday right by completing the first run of my half marathon training plan and day 2 of the runner's world running streak!
3 miles done!
i did 3 1-mile loops. the first loop i went out on my own, i brought capone with me on the second loop, and i brought jake on the 3rd loop!
i refueled immediately after my run with a click mocha espresso shake.
i haven't had one of these in a while, but this one really hit the spot!
then i had to hurry hurry hurry to get ready to head out to the garden. i volunteer at the garden every tuesday. once school ends for the k-12 students, it will be from 8:30am-1pm, but until then, it's 11am-4pm.
i helped plant about 200 pepper seedlings yesterday. my legs are screaming at me today for the lack of stretching after my run plus tons of squatting and standing over and over again during planting.
it was a good workout!
while i was at the garden, i ate my packed lunch.
i kept it easy with some watermelon slices and a smoothie: frozen raspberries, banana, vanilla protein powder, maca powder, and almond milk.
it was the perfect cool & refreshing lunch for out at the garden.
when i finally got home, i was too hungry to even make dinner. i needed a snack!
i put together this snack plate and sat down to read some blogs.
i ate some pickles, a babybel cheese, watermelon, sliced up kohlrabi dipped in horseradish hummus! yum! i love having tasting plates for snacks.
after i refueled, i was ready to tackle dinner.
i made this random salad with quinoa, wilted spinach + other greens, and a delicious tahini/tamari sauce. i'll share the recipe soon!
i had a dry vanilla bean soda on the side.
and that was my day –> not a bad way to ease back from a long weekend!
today i've got a fun-filled day of applying for jobs ahead of me with a side of dissertation writing thrown in the mix.
wish me luck!
what's your favorite snack?