two weeks of what i ate posts in a row! i'm on fire.
these are all the meals i at yesterday.
// breakfast //
a giant apple with some justin's honey almond butter.
and coffee x2, water, and supplements.
// lunch //
a banana with the last of the leftover spicy mexican rice.
// snack //
i cannot resist dip & chips wen we have it in the house. i snacked on some tostitos with mexicali dip.
// dinner //
baked salmon with cucumber dill yogurt sauce on top and a veggie medley on the side.
this oikos greek yogurt cucumber dill dip is perfect as a salmon topper. it's a new favorite in this house for sure!
thanks as always to jenn for hosting the what i ate wednesday link-up each week!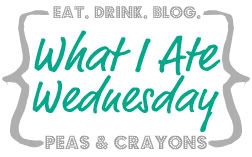 i'm always excited to participate!