hey everyone, i moved! sarah learns is now all grown up with its own domain (www.sarahlearns.com/). if you want to continue getting my posts in your reader or email every day, please update your feeds by using those cute little buttons over on the sidebar –> ). thanks! now back to normal blogging…
a couple years ago, my family started a new tradition of having a thanksgiving dinner a couple days before christmas.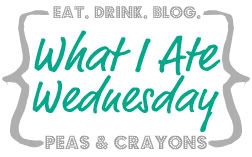 this started after liz moved to california and she or keith weren't able to make it back to wisconsin for thanksgiving. even though they would be around for christmas and sometimes new years, we had to make up for them missing thanksgiving and all the good food that goes with it!
this year we continued our tradition of having a second thanksgiving dinner on december 23. sadly, keith couldn't come this year, but liz, me, my mom, stepdad, brad, and his parents rounded out our dinner party.
oh, and the animals of course! my mom's two dogs, hoss and boone, jake and capone, and sunny – liz's cat.
we made lots of traditional thanksgiving food – turkey, gravy, stuffing, rolls, cranberry relish, brussels sprouts.
i filled my plate with some of everything.
i also had plenty of this delicious salad that brad's mom brought.
aren't the salad tossers cute? brad's sister went to africa in july and she brought those back for her mom. i love them!
after dinner, liz had a special treat for us.
she busted out her baking and pastry school skills to whip up this cheesecake.
it was delicious beyond words.
this might have been my favorite thanksgiving dinner at christmas yet!
***
i am so happy that i ended up with today off from work too! i thought liz didn't go back until today and that i'd have to drive her to the airport in the morning, so i took off through today. i have lots of errands, cleaning, and cooking to do today!
*****
do you ever celebrate holidays twice in one year?
do animals outnumber people in your family?
it's pretty close in ours!