i know i still haven't posted my race recap from crazylegs on saturday – it's coming tomorrow, i swear – but i thought i'd post my race day meals for today's what i ate wednesday link party!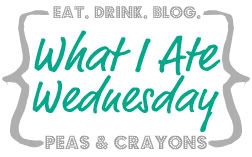 as always, thanks to
jenn
– our amazing hostess for this party every week!
i started off with, you guessed it, two massive mugs of coffee!
and i didn't want to mess with my breakfast too much since i haven't really experimented with what to eat before morning runs – since i don't run in the mornings!
so i made my usual breakfast as of late – a smoothie!
frozen cherries, banana, spinach, chocolate protein powder, almond milk, & chia seeds.
i love smoothie bubbles in photos.
*
fast forward something like 5 or 6 hours and the race was over and i was starving. i didn't want to buy something at the race and i was absolutely not feeling the free beer, so i grabbed an [unphotographed] orange slice and booked it home!
once home i downed a click protein shake in a ridiculously short amount of time.
after brad got home from work, we went out for a quick lunch before our super fun event that afternoon.
we decided to try out the cannery grill in sun prairie. neither of us had ever been there before, but all of the bar food on the menu was calling to us.
first up: beer was sounding good to me again! so i got a capital maibock
and brad had a lakefront amber.
we also ordered a half order of their chicken nachos to start.
i was so pumped to see that they had tons of toppings: green onions, black olives, jalapenos, chicken, and real cheese! you wouldn't think that would be difficult to come by in wisconsin, but usually my biggest critique of nachos is that they have that really gross processed cheese sauce on them.
oh yeah. i'd say we enjoyed those nachos.
brad ordered the buffalo chicken wrap for his meal.
with curly fries on the side. seriously, those curly fries made that meal. i love curly fries!
i ordered the 3 cheeseburger sliders for my meal.
i knew i wanted to eat meat, and these sliders sounded so delicious!
they were really good and with brad's help we finished all three!
we really liked our first visit to the cannery and will definitely be back! (actually brad's going back next week for a meeting – lucky!)
*
we had big plans to go to a wine tasting after lunch. i forgot to take any photos though. the place that we went was sampling wine from the michael – david winery in lodi (<—heather, this made me which i had your phone number so i could text you and tell you!).
it was fun and the place where the tasting was held is dog friendly so i got to pet a puppy and an adorable boxer while i was sipping my wine and cleansing my palate with cheese. it really doesn't get much better than that for me.
*
since we ate lunch after 2pm, i wasn't really hungry for a real meal at all that evening. i made a big juice.
and snacked on some somersaults and a babybel.
and it worked!
*
whew! as i was living that day, it didn't really feel like i ate very much, but now i can see that the second half of my day was pretty food-heavy!
***
also, don't forget to enter my giveaway for a technogel pillow – i swear, you will never sleep better than with one of these!
*****
do you ever feel like you didn't eat much all day, but then when you look back and think about it, you realize that you ate plenty?