i ate some pretty delicious food!
want to see??
// breakfast //
hot oats…
for the first time in for-ev-errrrr. they were amazing.
and of course i had them with coffee.
and a side of vitamins + water.
// snack //
i got hungry around mid-morning, so i grabbed some local, hand-pulled string cheese.
so delicious & stringy.
// lunch //
brad was ready for breakfast a little after noon & i was ready for lunch (sundays are his sleep-in days…), so we went to gus's diner.
i ordered a bowl of soup (chicken & wild rice at brad's request)
and a trip to the salad bar.
i didn't end up eating that coleslaw. i took one bite & realized it didn't tasted nearly as good as i was imagining. oh well.
// dinner //
i have been craving homemade pizza for dinner for at least a week now, and we finally made it on sunday night!
we just used a pre-made crust and stuck with traditional toppings: marinara, mozzarella, black olives, pepperoni, green peppers, and tomatoes (from the garden!).
and of course, beer is a perfect pairing for pizza. mmm.
// dessert //
sassy cow blue moon ice cream.
hit. the. spot.
it was a delicious day.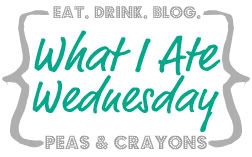 thanks as always to jenn for hosting the what i ate wednesday link-up every week!
{ 7 comments }