so, you'd think that with all of the time i'm spending working at home lately, remembering to take photos of my meals would be no problemo, right?
hah!
i have been taking a lot more photos lately, but i haven't captured a full day of meals since last week's wiaw.
i do have some deliciousness [huh. wasn't sure that was even a word. no red squiggle underneath, so i think we're good.] to share with you today anyway.
my new morning treat = homemade iced skinny hazelnut latte.
have been making extra large pots of coffee and saving the extra in a mason jar in the fridge for the next day's latte. i know there's a better/real way to make iced coffee, but this is working for me.
i have also learned that i prefer my lattes heavy on the coffee. the best ratio for me is 1 tsp sugarfree hazelnut syrup, about 1/4 cup plain unsweetened almond milk, and almost 2 cups of coffee.
perfection. especially when served up with a little blog reading.
but don't think that my giant mugs of hot coffee have fallen away.
they're still going strong.
[i actually just wanted to share these picture because i love the 5:30am shadows. thanks jake, for puking and waking me up early enough to enjoy those shadows….]
i'm also still enjoying my morning smoothies.
this one had cherries + blueberries, a banana, almond milk, vanilla protein powder, and a scoop of maca powder.
***
i'm terrible at photographing my lunches, but i rock at remembering to capture dinners. so to make up for having no lunchtime pics, here are 3 dinners…
i served the bok choy and tofu stir fry with a marinated (in a combo of olive oil, balsamic vinegar, oregano, basil, parsley, garlic) and then grilled portobello mushroom cap.
we made 4 mushroom caps, though. so the next night i did a little remix.
i sautéed some swiss chard in a little butter with some garlic and used that as the base. then i plopped an extra mushroom on top of that and topped the mushroom with some shredded chicken, roasted red peppers, and dubliner cheese plus a little extra drizzle of balsamic.
and asparagus on the side. of course.
i've also got another leftover remix. this time using the leftover filling from my baked reuben rolls.
this is a really lazy remix. i just sliced up a baguette, topped it with the reuben filling, added a little sliver of swiss cheese, and baked/broiled it until everything was warm and the cheese melted.
i served this with some alexia sweet potato tots and asparagus!
***
thanks to jenn for hosting what i ate wednesday every week!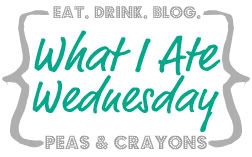 ***
whew! did you get all of that?
i guess i had a lot of unblogged meals saved up on my computer!
do you like to do leftover remixes?
if it's an assembled dish, like lasagna or something, i won't change up the leftovers. but stuff like this reuben filling or the simple portobellos were just calling for something different!
{ 11 comments }