oats that is!
or at least they made an appearance yesterday after a 2 or 3 month hiatus.
with coffee of course.
i made my normal hot oats with a banana and frozen fruit hidden underneath. i also added a teaspoon of maca powder to the mixture since i wasn't having my smoothie with breakfast.
it worked really well – i didn't even notice anything was different.
oh, and see that peanut-butter looking blog on top?
it's cookie butter. gah. i need to pay brad to eat it all or something so that i don't.
…
lunch was eaten on the go yesterday. i had a brain fart and completely forgot to pack something, so i bought it at chipotle!
i got a vegetarian bowl with half the amount of brown rice, double fajita veggies, pico, corn salsa, black beans, lettuce, a tiny drizzle of sour cream, and guac.
it was absolutely delicious!
i need to go to chipotle more often!
and of course, since i was out, the nearest starbucks was calling to me.
i got a skinny green tea frap with half the amount of whipped cream (i would so rather have less real whipped cream, then more fake light whipped cream).
it was delicious and perfect for the 80 degree weather!
p.s. 80 degrees is really my tipping point. i enjoy the 60's and 70's, but once 80 hits, i turn into a drama queen about how hot it is and how we need the air conditioning, etc. not sure why that is, but i really do dislike being hot (except when i'm working out – then i don't care if i'm sweating…).
moving on.
…
i was really excited to prepare this dinner. i used bok choy from our csa to make a delicious asian-inspired dish.
i used this recipe for inspiration but i didn't add the ginger, used cornstarch instead of arrowroot powder, and (csa) leeks instead of shallots.
i loved it! the sauce had great flavor and really made this my favorite bok choy i've ever had. i hope we get more bok choy soon!
also, i need to use sesame seeds more. i sprinkled them on top & it took the dish to the next level.
but bok choy wasn't all we ate! i also grilled some turkey burgers.
i know it doesn't really go with bok choy, but it worked…
i mixed the ground turkey with some breadcrumbs, an egg, worchestershire sauce, salt, pepper, oregano, basil, and garlic powder. (i think that's all). then i just formed my patties and grilled them.
the burgers also had lettuce, ketchup, sprouts, and guacamole. yum!
it was a delicious day.
…
as always, thanks to jenn for hosting this what i ate wednesday link party every week!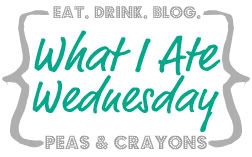 now i'm off to work work work.
…
what's your perfect temperature?
i think 72 degrees is perfect!
how about whipped cream? less real stuff or more lite stuff?
{ 9 comments }