lately i've been lucky enough to work from home a couple days a week. i'm not gathering data anymore and i don't have many classes left (just a few seminars per week), so it doesn't pay to commute for one and a half hours to sit at my desk in lab, when i could do the same thing from home!
but i just realized that that means i have only been showing you food and meals from the days when i work at home and i've gotten pretty lazy about taking photos of what i pack to eat in lab.
so today i'll go back to the old normal and show you what i ate on a day that i went into lab this week!
breakfast included the usual suspects.
coffee + water.
and chobani yogurt with some love grown foods granola mixed in and vitamins on the side.
a couple hours later i had my morning snack.
apple sauce squeeze pack and a babybel. individual packaged things are perfect for snacking!
i was pretty lazy when it came to lunch to…
a prepackaged trader joe's indian food meal. i really like the punjab eggplant though! i don't think i've tried one of these indian fare meals that i haven't liked.
i was snacky like woah after lunch, so i grabbed a bar to eat on my way home.
i completely forgot about this raw revolution bar in my snack drawer.
i still like the spirulina one the best, but this on was pretty good!
i guess it gave me plenty of energy because i came home and worked on my porch garden, took the dogs for a walk, and made a pretty delicious dinner!
for this, i made some orzo pasta for the base (trying to use up pantry items!).
then i just sautéed some green bell peppers, zucchini, mushrooms, asparagus, and cherry tomatoes in a bit of butter and added that on top of the pasta.
and i finally topped it all off with some herbed feta!
clearly this meal won the "best food of the day" award! i didn't realize how much i relied on packaged meals that day. i guess that's what happens when we don't have leftovers and i'm feeling lazy about packing food!
***
thanks as always to jenn for hosting this what i ate wednesday link party every week.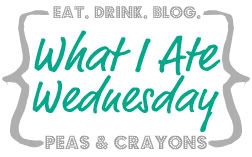 it makes it much easier to get my fix of foodie porn!
*****
today is another work at home day! i have to bring my jeep in to the dealer though. there was a part recalled that i need to get looked at. bummer.
other than that, my day is wide open for productivity!
i love that. days when i have all kinds of meetings or seminars breaking up my work time always leave me feeling like i had no time to accomplish anything. i do better with long stretches to work on projects.
hope you have a lovely day!
{ 8 comments }